If you've been wondering how to stake tomatoes or why it's even important, then this is the perfect guide for you. Not only will I share the best way to stake tomato plants (and my preferred way!), but also explain why it's important.
You'll learn the 'original' way to stake tomatoes using wooden sticks that's not only easy but also cost-effective. Plus, I'll also share other methods so that you know everything you need to know about how to stake tomatoes effectively.

Tomatoes are one of the most popular types of vegetables that home gardeners love to grow, and they come in so many different, tasty varieties! But to get the best harvest, it's important to provide the right support to your tomato plants as they grow. 
Staking is one of the most common and effective methods for supporting tomato plants, and can help prevent the plants from becoming damaged or diseased, improve air circulation, and increase fruit yield.
Since tomatoes are long, vining plants with heavy fruit, they need to be trained onto supports to prevent multiple problems later on.
In this guide, I'll share why you need to stake tomatoes, along with when to do it. Plus, I'll also explain how to stake tomatoes step by step so that you can easily do it at home!
Table of Contents
Why Do You Need to Stake Tomatoes?
Without a solid support structure, tomato plants tend to grow in vines along the ground. This introduces a number of problems. First, it provides easy access for pests, like insects and groundhogs, to munch away on your prized tomato plants. It also makes the plants more susceptible to being crushed when you have to walk through the garden to tend or harvest the tomatoes.
Plus, not staking tomatoes also severely reduces the amount of airflow they get. This greatly increases the chances of your plants developing harmful fungi and other diseases.
Staking tomatoes also benefits you as well; bringing them higher off the ground makes it easier to work with and harvest the plants.
When Do You Stake Tomatoes?
It's best to stake tomato plants while they are still small to prevent damaging them. While they're not required immediately after sowing or transplanting from seedlings, be sure to install the stakes or cages before the plant reaches 10" to 12" in height.
As the tomato plant grows, you'll want to tie it to the cage or stake every 6" to 12" of new growth. This helps "train" the tomato plant to grow along the support. Be sure to use a soft material like string or plant ropes since metal wire or other hard materials will cut into the stems as the plant gets heavier.
How to Stake Tomatoes (In Four Simple Steps)
It's incredibly simple and easy to stake tomato plants. This is how you can do it step by step:
Step 1: Consider the Type of Tomatoes You're Growing
Identifying the type of tomatoes you're working with is the first step in setting up your vegetable garden and staking your tomatoes. Tomatoes can be either determinate or indeterminate varieties.
Let's examine each of these in turn and how they relate to staking a tomato plant.
Determinate Tomatoes
Determinate tomatoes grow to certain sizes. They finish producing all of their fruit in around two weeks.
Determined tomatoes require less support when it comes to staking. You'll still need to support them, but their vines are much smaller, so you can grow them in smaller spaces.
Another thing to remember about determinate tomatoes is that many hybrid varieties are also determinate. Look at the label on your seeds to find out what kind they are.
Indeterminate Tomatoes
Indeterminate tomato plants tend to grow larger and produce heavier fruit for an extended time period. Typically, they also produce more fruit. As a result, they will benefit from strong stakes for support.
Indeterminate tomato plants continue to produce fruit until the first frost. That means these plants will give you a much bigger harvest.
Step 2: Decide Between Caging and Staking
There are two different ways you may stake your tomato plants. One is by using tomato cages, the other is by using wooden sticks and plant ropes. Let's break down some of the pros and cons of each.
Tomato Cages
Tomato cages are made from concrete reinforced wire mesh in a cylinder shape to support the tomato plant. Using tomato cages is the most common method used to stake tomato plants. This method of tomato staking is not my favorite, but it sure is very convenient. You can purchase them at most stores.
In my experience, these tomato cages don't have sufficient support for a full-grown tomato plant. I used these cages once and by the end of the summer, all of my tomato plants along with these cages were lying sideways on the ground.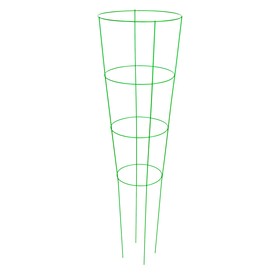 Wooden Stakes
Wooden stakes are the best tomato supports. They are usually 1-by-1-inch or 2-by-2-inch boards, approximately 6 feet long, and made of tree branches or prepared wood. If you're growing heavy fruiting varieties, then using larger-sized stakes is a good idea.
My preferred way to stake tomato plants is the "old fashion way", or the original way. This is the way my parents taught me while I was growing up in Ukraine; using wooden sticks and plant ropes. Tomato plants staked by wooden sticks should be checked on pretty often during active growth and tied to the stick using plant rope.
Make sure to tie the plant securely enough so that the weight of the fruit doesn't pull the plant down, but not too tight as this will damage the stem. Try to tie the main stem about 1" above the flowering stems to prevent damage to any part of the plant.
Overall, staking tomato plants will definitely improve your chances of success.
Step 3: Choose a Staking Method
Another aspect of staking your tomato plants is deciding on a staking method. There are three basic methods to choose from: Florida weave, single stake, and double stake. Let's look at each of these in more detail:
Florida Weave
If you want to go for this method, plant the tomatoes in two rows approximately two feet apart. Next, drive stakes every three plants and at the beginning and end of each row.
Your first stake should be wrapped in twine, which you should then weave in front of one plant and then behind another. Repeat up to the end of the row, then down the second row.
The Florida weave is intended for gardeners who grow a lot of tomatoes. This could be useful if you have a huge tomato plot.
Single Stake
Using the single stake method, you just stake your plants once they reach a height of around a foot. Use the tie you chose to tie the stakes to the vine and tie the plants again every six inches, tie the plants again.
Since they take up so little room, single stakes are often the best option for plants in containers. This is also a great way for home gardeners to stake their tomatoes and my preferred way of doing it.
Double Stake
Heavy tomatoes, like heirlooms, do well when they are supported by the double stake method. Use two stakes on opposing sides of the plant for this strategy.
Finally, wrap the twine or jute around the plant stem and both posts. As your tomatoes grow, keep tying them for support.
Step 4: Prune Your Tomato Plants
Pruning away suckers is the final stage in growing and staking tomatoes. Suckers are weak plant components that do not produce as much fruit. Most of the time, you'll find them between branches with fruit and the main stem.
After staking the plant's fruit-bearing branches, remove the suckers to prevent the plant from losing energy to them. This will allow the plant's energy to be directed into developing fruiting branches.
I have a complete post on how to prune tomato plants that I highly recommend you check out.
Need more information about growing tomatoes? Please check these posts out:
Please follow me for more deliciousness on Facebook, Instagram, and Pinterest!